Lovina Beach is located on the north coast of Bali. Lovina is an excellent location for dolphin watching, snorkeling and just relaxing on the beach. Lovina has a very relaxed atmosphere and has spectacular sunsets. Leave your surfboard at home though as the sea at Lovina Beach is flat. Lovina Beach has dark coloured sand produced from the original volcanic activity that created Bali.
Lovina Beach Bali
Dolphins at Lovina Beach Bali
The best time to see the dolphins at Lovina Beach is at sunrise. You can hire a boatman on Lovina beach for your chance to see hundreds of dolphins having their morning feed of prawns or tuna. Mostly the dolphins around Lovina belong to the spinner dolphin family. These dolphins are smaller than the bottlenose dolphin and are a dark grey colour.
If you want to get even closer to a dolphin then go to the Melka Excelsior Hotel which have 3 dolphins in a large swimming enclosure in the resort available to swim with and for Dolphin Therapy.
Lovina Dolphin Monument
Sunsets at Lovina Beach
Lovina Beach has some of the most spectacular sunsets. Most times of the year you will see an amazing sunset over the ocean.
Sunset over Lovina Beach
Hindu Temple at Lovina Beach
There is a large Hindu Temple called Pura Segara located right next to Lovina Beach where the Dolphin statue is located on Jalan Binaria. The Hindu temple was recently expanded in 2010 to a larger complex. You can visit the temple though you will need to either wear long pants or wrap a sarong around show your legs are not showing. Throughout the year there are a number of large festivals held at the temple with many locals coming to pay tribute to the gods at the temple.
Buddhist Temple close to Lovina Beach
Just outside the Lovina Beach area, on the way to the hot springs is a beautiful Buddhist Temple, Brahmavihara Arama Buddhist Temple which is well worth a visit. It has beautiful sculptured gardens with many classic Buddhist imagery.
The Brahmavihara Arama Buddhist Temple run meditation retreats run by visiting monks from South East Asia. The retreats run from 3, 10 and 14 days. There is basic accommodation within the temple. The retreats are based on donation only. For more information contact Susan on 0852 3804 6181 or contact via their website - Brahamavihara Arama Buddhist Temple
Buddhist Temple close to Lovina
Hot Springs close to Lovina Beach Bali
There are hot springs (air panas) located close to the Buddhist Temple with a choice of pools of varying temperature. There is a small entre fee for entering and using the hot springs for bathing. There are change rooms and showers available. For other hot springs located in Sumatra Indonesia click here.
Snorkelling and Scuba Diving at Lovina Beach
There are small coral reefs a few hundred meters off Lovina beach. Though the coral is not in the best of condition there is still plenty of different variety of fish to view. Day trips can be arranged from Lovina to go snorkeling or scuba diving on Menjangan Island which has some great coral reefs with abundant marine lifeincluding sea turtles, stingrays and reef sharks.
Waterfalls close to Lovina Beach Bali
There are a number of nice waterfalls close to Lovina. Just 5km west of Lovina Beach is Singsing Waterfall (Air Terjun Singsing).
Around 40 minutes drive from Lovina Beach is Gitgit Waterfalls which is just off the main road that takes you to the southern part of Bali. At Gitgit Waterfalls there are 2 nice waterfalls just a few hundred meters aparts.
See more photos and information on how to get to Singsing Waterfalls and Gitgit Twin waterfalls
Attractractions close to Lovina Beach Bali
Just 15 minutes from Lovina is the traditional Balinese town of Singaraja which was the administrative capital of Bali until 1953. It has a population of around 100,000 with 20 - 25% being ethnic Chinese. There are daily day and night markets with good food stalls to try some interesting food.
Singaraja has a spectacular Hindu temple in the centre, Pura Jagatnatha. It is generally closed though it has intricately carved gateway.
Pura Jagatnatha Hindu Temple - Singaraja
Getting to Lovina Beach
It takes just under 3 hours to drive fromKuta to Lovina or around 2 hours from Ubud. There are buses that go from Kuta though will take a lot longer than 3 hours as they stop along the way to drop off and pick people up. You will not have any troubles arranging a car and driver to take you to Lovina for around 500,000Rp depending on your bargaining skills. The bus is around 75,000Rp. The advantage with your private car is you can stop along the way wherever you like including at Pura Ulun Danau (lake) or Gitgit Waterfalls in the hills before you descend to the coastline into Lovina. There are many monkeys in these hills along the roadside waiting for passing cars to throw food to them. Also a good opportunity to stop to take photos.
Pura Uun Danau Temple on the way to Lovina
Rooster or cock fighting in North Bali
Many villages around Lovina hold cock fighting on various days throughout the week. This is a blood thirsty sport not for the faint hearted. The roosters have metal spurs tied to their legs which can end a fight very quickly. Although gambling is illegal in Indonesia there is plenty of money changing hands at these tournaments. At least the losers of the fights end up as Ayam goreng (fried chicken)!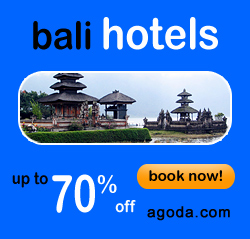 Accommodation - Hotels, Guesthouses in Lovina Beach
There are many hotels and resorts to stay at within the Lovina area with different prices ranges to suit all budgets. Check out a list of the hotels in Lovina with online booking
Restaurants in Lovina Beach
There are heaps of casual restaurants in Lovina Beach. With a range of food including traditional Balinese and Indonesian, Japanese, Italian, Pizza and international food available. Check out the full list of Restaurants in Lovina:
Last updated 2nd December 2015