Places of Interest in Bali
Other Indonesian locations
Nusa Lembongan is a small island only a 90 minute by public ferry ride from Sanur in Bali or 35 minutes by fast boat. It has beautiful quiet sandy beaches and great spots for snorkeling, scuba diving and surfing. A great place to get away from the hustle and bustle of Bali.
Nusa Lembongan and it's neighbouring islands of Nusa Ceningan and the larger island of Nusa Penida have clear waters with some of the best snorkeling and scuba diving in all of Indonesia. There is some amazing scuba diving to be done around Nusa Lembongan and then over at Nusa Penida you have the chance to see the incredible Manta Rays and Mola Mola fish. Nusa Lembongan is also visited regularly by pods of Dolphins. Best place to see the Dolphins is around Mangrove Point which is located at the very northern point of Nusa Lembongan. Read more about Scuba Diving in Nusa Lembongan.
Pods of bottlenose dolphins visit Nusa Lembongan. The best place to see the dolphins is at Mangrove Point at the very northen coast of Nusa Lembongan.
There is 1 ATM at the main harbour of Nusa Lembongan accepts Mastercard, Visa, Cirrus and JCB card. This ATM is very unreliable and often breaksdown and takes days to be repaired. When the ATM is not broken it runs out of cash quickly. It is best to bring enough cash with you for your stay. Many of the restaurants attached to the larger hotels and resorts do accept credit cards. There are a few foreign exchange offices on Nusa Lembongan though the exchange rate is not very good compared to what you get in Bali.
When you are on Nusa Lembongan at night time don't forget to look up as the night sky is amazing. Away from all the bright lights of Bali the stars are so bright. Sit down on the beach after dinner and look up and check out the various constellations.
Also make sure you get up early in the morning to see the amazing view across to Bali and you see the huge Gunung Agung Volcano. After around 8.30am or 8am the volcano is covered with clouds so best to see it in the morning when the sun is rising. Best to see this view from the hill next to Lembongan Bay.
Snorkeling and scuba diving on Nusa Lembongan
There are some quality locations for snorkeling and scuba diving around Nusa Lembongan and the neighbouring islands of Nusa Ceningan and Nusa Penida. The northern tip of Nusa Lembongan is probably the best location for snorkeling, diving and surfing.
Some of the best marine life you can see around Nusa Lembongan include the awesome Manta Rays as well as the almost prehistoric Mola Mola fish. Read more about Scuba Diving in Nusa Lembongan.
Nusa Lembongan has PADI certified dive operators and courses are available to learn how to dive. I can highly recommend the Bali Diving Academy at Bungalow No 7. I did 7 dives with Bali Diving Academy and they are very organised and the dive guides are awesome at finding all the cool stuff under the water.
Surfing on Nusa Lembongan
At Lembongan Bay there are 3 great surf breaks available for all levels of surfers. Playgrounds has left and right peak waves and you can carry a wave for around 50 meters. Great for long boards or beginner surfers. Lacerations as it's name suggests is a reef break and best for experienced riders. Great for short boards. Shipwrecks has a classic right hander break which is for experienced riders only. If you venture over to Nusa Ceningan which is only 30 minutes away from Nusa Lembongan you'll find Secret Bay which has a left hand point break. There is a suspension bridge connecting Nusa Lembongan and Nusa Ceningan so no need to hire a boat to get there.
Yoga classes on Nusa Lembongan
There are a few places on Nusa lembongan that offer Yoga classes. The Yoga Shack offer daily yoga classes includin Hatha Yoga, Vinayasa Yoga and Yin yoga. The Yoga Shack is located at the Secret Garden Bugalows.
Day Trips to Nusa Lembongan from Bali
You can do day trips to Nusa lembongan from Bali. Bali Hai Cruises do day trips, it takes 1 hour by boat from Bali on the large cruise ship. The boat docks at the Bali Hai Barge which is moored in Lembongan Bay. You spend the day there doing snorkeling and having lunch on the barge.
Restaurants on Nusa Lembongan
Most of the best restaurants on Nusa Lembongan are located within the hotels of Nusa Lembongan.
The Deck Cafe Bar is located on the hill right next to Lembongan Bay. The Deck is the place to come for great food and to watch the awesome sunsets over Lembongan. The Deck bake their own bread, make their own pizza bases and have delicious Aussie meat pies. The Deck is right out the front of Batu Karang Resort.
Indiana Restaurant located within the new Indiana Kenanga Luxury Villa has fantastic food. They have a French chef, Clement who has worked in Michelen Star restaurants in Europe including in Paris. They prices are a bit expensive compared to other places on Nusa Lembongan though the food is amazing. Entrees start from 65,000Rp, main meals from 130,000Rp and desserts from 75,000Rp.
Linda's Bungalows has a fantastic restaurant. They claim to have to best food on Nusa Lembongan and I have to agree. Their menu is fairly standard with Indonesia food or burgers though they have a specials board which changes regularly and this food is special! Crumb chicken breast with mushroom sauce or calamari rings with chips and salad to name a few.
The View from Linda's Restaurant
Internet access on Nusa Lembongan
Most hotels, restaurants, bars and beach clubs on Nusa Lembongan offer free WiFi internet access. Some places the internet speed is quite slow. The more upmarket hotels have good, reliable internet speed.
Last updated 30th December 2015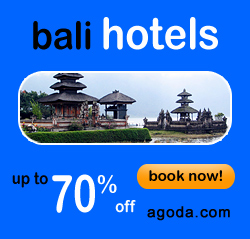 How to get to and from Nusa Lembongan
There are now lots of companies doing fast boats from Sanur in Bali across to Nusa Lembongan. The fast boats take around 35 minutes to transfer across, plus all the extra time to get everyone and their bags onto and off the boats.
There is still the option to get a public ferry across to Nusa Lembongan. The public ferries leave from the very northern end of Sanur and take around 90 minutes to cross. The public ferries are only small boats that fit around 20 people. It can be a bit bumpy and expect to get wet on the way across.
The fast boat tickets costs 300,000 Rp per person and include a pick up from your hotel in Sanur, Nusa Dua, Kuta, Legian and Seminyak and also a drop off to your hotel on Nusa Lembongan. If you just want the fast boat trasfer than the ticket price is 175,000Rp.
The fast boats leave Sanur to cross over to Nusa Lembongan at 8.30am, 11am and 3pm.
Boats leave Nusa Lembongan to cross to Sanur at 9.30am, 1pm and 4.30pm.
You can buy the fast boat tickets in any travel office around Bali. There is no need to go to the ticket office at Sanur harbour.
Check out these Nusa Lembongan Fast Boat Companies:
Accommodation / Hotels on Nusa Lembongan
See a full list of hotels on Nusa Lembongan
Ketut Losmen Bungalows (4 reviews) is located right on the beach where the boat transfers from Sanur drop you at Nusa Lembongan. With a small swimming pool overlooking the beach. Room prices start from 250,000Rp per night (A$25). With free WiFi internet. For pictures, prices contact details and hotel reviews click here.

Ketut Losmen Bungalows Nusa Lembongan
Tarci Bungalow and Agus Bar and Restaurant (2 reviews) is backpacker accommodation located right on the beach at Jungutbatu Beach. Budget accommodation with free WiFi internet. Room prices start from 300,000Rp per night. For pictures, contact details and hotel reviews click here.
Bungalow No 7 offers tradition Losmen accommodation from right at the Lembongan Harbour. Cheap accommodation and home to the Bali Dive Acadamy. www.bungalo-no7.com
Puri Nusa Bungalows and Restaurants (1 review) is located right on the beach at Jungut Batu. With a choice of rooms with fan or air-conditioning, room prices start from 240,000Rp per night. For pictures, contact details and hotel reviews click here.
Mandara Beach Bungalows and Restaurant is located right on the beach at Jungut Batu Beach. Room prices from 290,000Rp (A$29) per night with fan and cold water. For pictures, contact details and hotel reviews click here.
Linda Bungalow and Restaurant (2 reviews) run by Aussie Linda. Located on the main beach - Jungut Batu with an excellent restaurant. Room prices start from 250,000Rp per night. For pictures, contact details and hotel reviews click here.
Star Two Thousand Cafe and Bungalows (2 reviews) is right next door to Ketut Losmen Bungalows right on the beach. It is owned by the same family so you can use the swimming pool at Ketut Losmen (see picture below). Room prices start from 380,000Rp per night A$38. For pictures, prices, contact details and reviews click here.
Mainski Lembongan Resort (2 reviews) located on Sunset Beach offers good quality 3 star accommodation. With a small swimming pool. Prices start from 320,000Rp (A$32). For pictures and hotel reviews of Mainski Lembongan Resort click here.
Ship Wrecks Villas located on the north-west coast of Nusa Lembongan with surfing and snorkeling minutes away. Room prices start from 660,000Rp (A$66) www.nusalembongan.com.au
Indiana Kenanga Luxury Private Villas and Spa (1 review) Private suites start from US$200 per night. Some rooms have private swimming pools. With WiFi internet access. For pictures, contact details and reviews click here.
Batu Karang Resort and Day Spa is one of the best luxury resorts on Nusa Lembongan, located on the hill looking over Lembongan Bay. Room prices from US$260. www.batukaranglembongan.com
Lembongan Island Beach Villas have 2 bedroom villas that fit up to 4 adults. Prices are US$165 per night for the standard villas and US$185 per night for the whirlpool villas. This includes breakfast and all taxes.